Principles for Joint Working
The need for a joint response is not new. The findings and lessons identified by public inquiries and inquests have highlighted cases where the emergency services could have worked better together and shown much greater levels of communication, co-operation and co-ordination.
As well as improving joint working between the emergency services, this document emphasises the need for all responding organisations to work in a joint and co-ordinated approach.
Policies and procedures that promote joint working form the basis of the doctrine for responding services. Applying simple principles for joint working are particularly important in the early stages of an incident, when clear, robust decisions and actions need to be taken with minimum delay, in an often rapidly changing environment.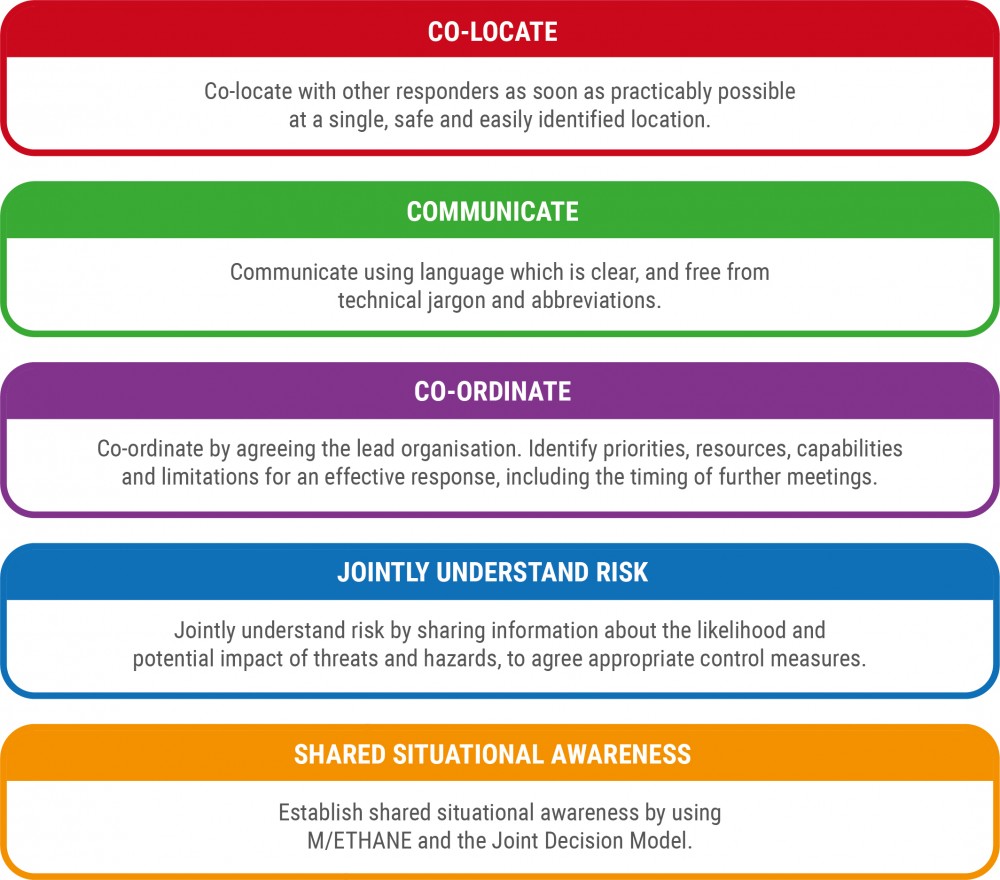 Those principles are illustrated in the diagram shown here.
They will often, but not always, be followed in the order in which they are presented. Click here for more information about the JESIP Principles.
In the early stages of an incident, employees of one service may arrive before the employees of another, and as a result they may carry out tasks that are not normally their responsibility. If this happens, command and control arrangements for the relevant service should start as soon as the right personnel are in place in sufficient numbers.
3.1 Co-Location
---
When commanders are co-located, they can perform the functions of command, control and co-ordination face-to-face. They should meet as early as possible, at a jointly agreed location at the scene that is known as the Forward Command Post (FCP). This allows them to establish jointly agreed objectives and a co-ordinated plan, resulting in more effective incident resolution. The benefits of co-location apply equally at all levels of command.
If there is any delay in commanders co-locating, interoperable communications should be used to begin establishing shared situational awareness.
The operational and tactical commanders of each service should be easily identifiable at an incident. This is usually achieved by wearing role specific tabards. There are exceptions, such as at public order and other specialist incidents where coloured epaulettes and helmet markings are used. Click here to read more about incident commander tabards.
Although not all responders will have role specific tabards they should wear appropriate personal protective equipment (PPE) and have identification as a minimum.
3.2 Communication
---
Meaningful and effective communication between responders and responder agencies underpins effective joint working.
Sharing and understanding information aids the development of shared situational awareness, which underpins the best possible outcomes of an incident.
The following supports successful communication between responders and responder agencies:
Exchanging reliable and accurate information, such as critical information about hazards, risks and threats
Ensuring the information shared is free from acronyms and other potential sources of confusion
Understanding the responsibilities and capabilities of each of the responder agencies involved
Clarifying that information shared, including terminology and symbols, is understood and agreed by all involved in the response
3.2.1.Common terminology
Using terminology that either means different things to different people, or is simply not understood across different services is a potential barrier to interoperability.
The Lexicon of UK civil protection terminology sets out definitions for common terminology in emergency management, including important terms in interoperability. There is also a set of common map symbols for civil protection.
Emergency services and responder agencies should cross-reference definitions in their own organisation's documents and adopt the common definitions contained from the Lexicon. Agreeing and using common terminology is a building block for interoperability. If there is any doubt about what is meant by a specific term, individuals should check and confirm whether a common understanding has been established.
Some of the terms used in this document are key to successful joint working and responders should understand them. Definitions and a short explanation can be found here
3.3 Co-ordination
---
Co-ordination involves commanders discussing resources and the activities of each responder agency, agreeing priorities and making joint decisions throughout the incident. Co-ordination underpins joint working by avoiding potential conflicts, preventing duplication of effort and minimising risk
For effective co-ordination, one agency generally needs to take a lead role. To decide who the lead agency should be, factors such as the phase of the incident, the need for specialist capabilities and investigation, during both the response and recovery phases should be considered. There is specific guidance for some types of incidents, highlighting which agency should take the lead role. The decision on who takes the lead role should be documented – the lead agency may change as the incident develops.
The lead agency should chair co-ordinating meetings and make sure they take place regularly.
3.4 Jointly Understand Risk
---
Different responder agencies may see, understand and treat risks differently.
Each agency should carry out their own 'dynamic risk assessments' but then share the results so that they can plan control measures and contingencies together more effectively.
By jointly understanding risks and the associated mitigating actions, organisations can promote the safety of responders and reduce the impact that risks may have on members of the public, infrastructure and the environment.
3.5 Shared Situational Awareness
---
'Shared situational awareness' is a common understanding of the circumstances, immediate consequences and implications of the emergency, along with an appreciation of the available capabilities and the priorities of the emergency services and responder agencies.
Achieving shared situational awareness is essential for effective interoperability. Establishing shared situational awareness is important for a common understanding at all levels of command, between incident commanders and between control rooms.