Joint Organisational Learning in Action!
Joint Organisational Learning in Action!
Working together following information shared on JOL helps to prevent water rescue incidents…
Over the summer, the JESIP Interoperability Board issued a JOL (Joint Organisational Learning) Action Note to address some significant issues which were affecting our aim to save lives and reduce harm at water rescue incidents.
Following this, an example of notable practice was submitted to JOL Online which highlighted some excellent collaborative working in order to prevent water rescue incidents happening in the first place. Our thanks go to Simon Bale MBE – Contingency Planning Officer, JESIP Trainer and JOL SPoC for Avon and Somerset Constabulary – who has kindly expanded this submission in the following case study:
During July 2022, the UK experienced some of the hottest weather on record with numerous heat alerts issued by the Met Office and partner agencies.
As part of the preparatory work within the Avon and Somerset Constabulary the Police Strategic Commander for the weekends of the forecasted heat wave requested that additional support was sought from the search and rescue (SAR) teams from the Avon and Somerset Local Resilience Forum (LRF) SAR Sub Group.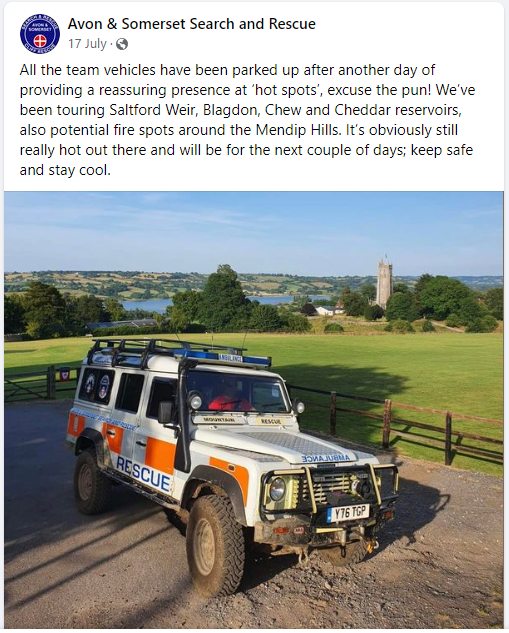 Included within this group were the mountain rescue accredited teams of Exmoor Search and Rescue, and Avon and Somerset Search and Rescue as well as 'BARB' Search and Rescue based in Burnham on Sea and who are a declared SAR Asset to HM Coastguard.
Due to the potential for increased use of inland water ways to keep cool, the SAR teams were tasked to assist with incident prevent and education patrols to those persons tempted to enter these various waterways which included local rivers, weirs, canals, lakes and reservoirs.
In addition, they were briefed to engage with anyone sighted trying to use disposable Barbeques to deter them and educate them about the fire risk to the extremely dry grass and moorlands.
To best use the various SAR assets being deployed, Airwave[1] Radio Handsets were issued to the search teams to allow direct and immediate communications with the emergency services using a shared interoperability talk group for the teams to book on and off patrol, and for any immediate taskings to incidents.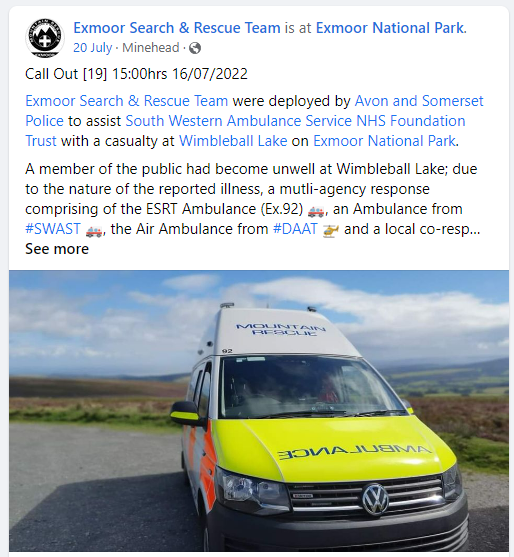 These pre-planned SAR patrols, in collaboration with emergency services, led to really good engagement with the public and far fewer calls for service for persons entering the water than previously. It also expedited an emergency deployment to Wimbleball Lake on Exmoor by the Exmoor SAR Team following a request from South Western Ambulance Service Trust to assist with a reported drowning incident. Being nearby and available on the airwave radio, the team were soon on scene, administering immediate casualty care before handing over to the air ambulance which then arrived at the extremely rural location.
Notable Practice NP02851 was submitted to JOL Online to highlight the benefit of pre-planning responses for such weather-related incidents utilising the JESIP principles, including ensuring the availability of joint communication methods.
To find out more about this case study, please contact simon.bale@avonandsomerset.police.uk.
The JESIP Joint Doctrine: The Interoperability Framework states that:
'[t]he lessons identified from debriefing activities are vital to improving the way we respond to incidents. Inquests and inquiries focus heavily on previous lessons and responder organisations must be able to prove they have identified and shared learning to try to prevent future similar issues…JOL Online, supported by a robust process and governance, provides responder organisations with a consistent and accountable mechanism to ensure lessons identified are acted upon, to make the transition from lessons identified to lessons learned.' JESIP (2021)
To find out more about JOL, please visit the webpage or email jol@jesip.org.uk
The original notable practice submission can be viewed by JOL users on JOL Online.
---
[1] Airwave is the digital radio communications system utilised by the emergency services and many other responder organisations