JESIP on the Isle of Man
JESIP on the Isle of Man
At the beginning of December 2022, a team of JESIP Trainers were invited to the Isle of Man (IoM) to deliver the JESIP Multi-Agency Interoperability Course and Train the Trainer workshop. Jane Kelly, Emergency Planning Officer and coordinator of the island's Civil Defence Unit, here gives us an overview of interoperability on the IoM and how they plan to adopt JESIP following our visit:
---
As a Crown Dependency, the IoM doesn't operate under the Civil Contingencies Act 2004. However, it does, where possible, adopt some of the principles. Unlike mainland UK, we have no Category 1 or 2 responders, instead everyone responds with the same responsibilities and we work together on various emergency planning groups including the Resilience Group (our equivalent of a Local Resilience Forum).
The bonus of working on an island in small services is we have a good existing working relationship; we tend to know each other as we sit on the same groups and committees and invariably respond to the same incidents. This has been a great way to operate in the past, however we needed to put some structure into what we do on a day-to-day basis and that's why JESIP has been introduced.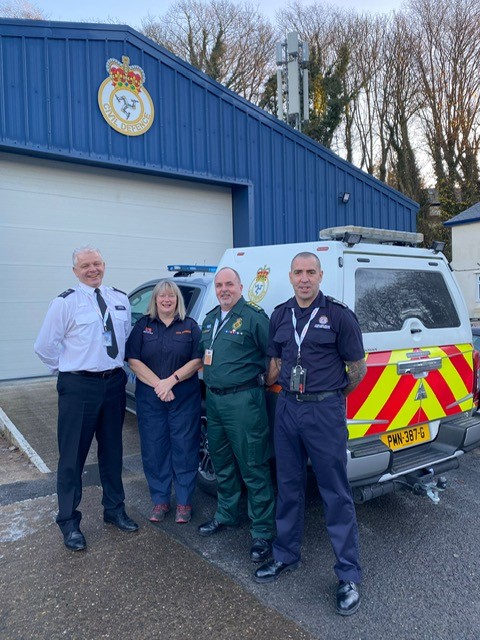 Pictured: Sgt David Cook (Metropolitan Police Service), Jane Kelly (Emergency Planning Officer, Isle of Man), Keith Sharpe (East Midlands Ambulance Service) and Terence Griffin (Tyne and Wear Fire and Rescue Service) outside an Isle of Man Civil Defence building
The recent visit by the JESIP training team has given us the opportunity to train our own multi-agency trainers from the emergency services, utility companies and government departments that respond to incidents. The training itself was well attended by representatives from the Isle of Man Constabulary, Ambulance, Fire and Rescue Service, Airport Fire and Rescue Service, Civil Defence and Coastguard. We also included managers from the Flood Management Division, Manx Care (Health) and Manx Utilities so there was a broad spectrum of responder organisations who are now familiar with JESIP principles and models and understand how to apply these in an incident.
Early in 2023, we were also pleased to receive a bespoke JOL (Joint Organisational Learning) session from the National JOL Coordinator which has increased our confidence in and engagement with JOL Online, supporting our own organisational learning arrangements.
We now aim to roll out JESIP widely across these different agencies, in particular for the on-call managers who are called upon to make tactical and operational decisions during incidents. We've even now got the JESIP M/ETHANE keyring on our vehicle keys! We will also be doing some work with our strategic group and embedding the JESIP Joint Doctrine at all levels using the JESIP awareness products. Eventually we hope to have included our voluntary organisations who, on an island such as ours, play a major part in supporting the emergency services.
Comments from the course included:
The course was a great way of sharing knowledge and working together in a classroom environment with the opportunity to discuss everything. We appreciated the depth of knowledge and experience the trainers brought with them and learnt a great deal. We look forward to rolling out JESIP and making our responders as prepared as possible for future incidents.

Jane Kelly, Emergency Planning Officer, Isle of Man
---
I found the course very enjoyable and a good inter service training event. Getting all the services around the table all training together and talking a common language and having a joint understanding of the standard principals is an invaluable learning opportunity and I look forward to be able to help roll this out across all the services as a trainer over the coming years.

Mark Corlett, Senior Paramedic Officer Isle of Man Ambulance Service
---
It was an absolute pleasure [to deliver the JESIP Training on the IoM] and I found everyone really enthusiastic and interested in the concept. I hope the JESIP principles and brand can be embedded across the Isle and look forward to hearing how that process goes.

Sgt David Cook, JESIP Trainer, Metropolitan Police Service