JESIP News Edition 8
JESIP News Edition 8
In this edition we give extensive coverage of Exercise Joint Endeavor, the final major validation exercise for JESIP, a short training update and then some great examples of JESIP being embedded and used in the real world!
You can download the newsletter by clicking on the image and saving locally so please do share widely, on services intranets or noticeboards.
As JESIP is in the transition phase for the next 6 months, you can expect our next newsletter in December and again in March next year.
Thanks for reading.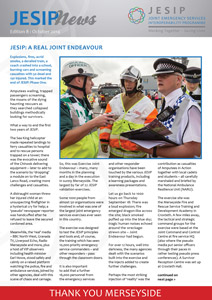 Documents