JOL Action Notes
What are JOL Action Notes?
A JOL Action Note is issued from the Interoperabilty Board to all respective responder agencies and LRFs where there is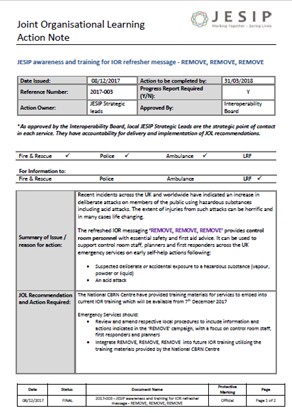 a specific recommendation to be implemented. The Interoperabilty Board sits quarterly and is attended by national strategic leads from the emergency services and by Government departments.
JOL Action Notes may require action or are for information. Where they are for action, then the relevant JESIP Strategic Lead (emergency service and/or LRF) has responsibility and accountability in ensuring the action is implemented across their organisation/LRF.
When for information, the Strategic Lead has responsibility and accountability in ensuring respective staff are made aware of the relevant JOL action note.
JOL Action Notes to date
There have been 7 JOL Action Notes issued to date.
The Action Notes are:
2015-001- Police Commander Tabards for Public Order Incidents
Following a number of Lessons Identified received through the JOL App, it has emerged there are certain situations when it is not appropriate for police officers to wear an identifying incident commander tabard. This is mainly to protect the safety of officers in environments where identification may make them a target. In these cases alternative colour coded uniform marking is utilised which staff from fire & rescue and ambulance services would benefit from understanding. This is explained in more detail on the Action Note.
2016-001 - Relating to Police Commander Tabards at Multi-agency incidents
Evidence submitted to Joint Organisational Learning (JOL) from a wide range of multi-agency incidents, has identified the wearing of police incident commander tabards is inconsistent and ad-hoc. This would appear to depend on the process for implementation and distribution of tabards by the respective police service.
It is essential that police services address the actions detailed in this action note to ensure that commanders can quickly identify each other and co-locate at the scene. This is explained in more detail on the Action Note.
2016-002 - Relating to Police Firearms Public Order Commanders training
Evidence through Joint Organisational Learning (JOL) from a number of multi-agency exercises has shown a significant number of specialist commanders with limited or no awareness of the JESIP Principles, the JDM / M/ETHANE when working with other agencies. Critically this has led to observations of poor joint command and control of the exercises as JESIP is not understood or applied.
It is essential all police services address this issue and ensure these specialist commanders are equipped with the interoperability skills and tools proven to provide an effective joint response to incidents, whatever their nature or scale. This is explained in more detail on the Action Note.
2017-001 - Relating to services setting up JOL Generic Mailboxes
To support and ensure a consistent and standardised approach to JOL, a single service JOL mailbox will allow services the flexibility they require in monitoring and managing information both to and from JESIP with regards to any JOL communications. It will also provide services with a greater degree of resilience for the management of information, thus reducing any potential communication failure due to the movement of current JOL SPOCs using their own email addresses.
It is important that services retain a named JOL Single Point of Contact as a means of primary communication with the central JESIP team. This is explained in more detail on the Action Note.
2017-002 - Relating to Prison Officer Tornado Teams training
Recent incidents at a number of prisons across England have identified a lack of knowledge and understanding of JESIP to enable joint working between the emergency services and Tornado teams. A number of lessons have been identified through both the emergency services and the prison service implementing on the spot arrangements at these incidents. This inconsistency has impacted on clear and consistent emergency planning and response arrangements for a multi-agency response to prison unrest/riots across the UK. This is explained in more detail on the Action Note.
2017-003 - Relating to National CBRN Centre IOR "REMOVE" training
Recent incidents across the UK and worldwide have indicated an increase in deliberate attacks on members of the public using hazardous substances including acid attacks. The extent of injuries from such attacks can be horrific and in many cases life changing.
The refreshed IOR messaging 'REMOVE, REMOVE, REMOVE' provides control room personnel with essential safety and first aid advice. It can be used to support control room staff, planners and first responders across the UK emergency services on early self-help actions following:
Suspected deliberate or accidental exposure to a hazardous substance (vapour, powder or liquid)
An acid attack
This is explained in more detail on the Action Note.
2018-001 - Relating to Water Rescue Throw Lines
Responder agencies should consider the adoption of the recommendation highlighted in the Marine Accident Investigation Branch (MAIB) safety bulletin. This requires respective responder agencies to conduct inspections of throw bag rescue line equipment.
You can access the JOL Action Notes through JOL Online here.
When you arrive at the landing page, select Guides & Info.
Please contact jol@jesip.org.uk if you have any queries.