Commander E-Learning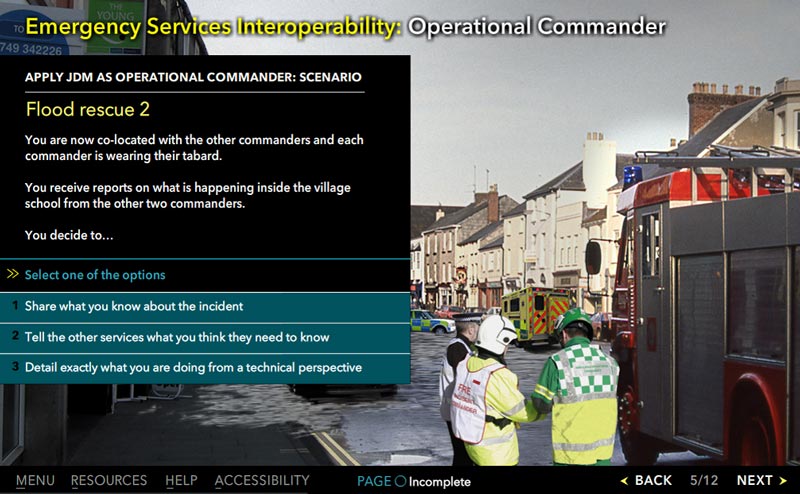 The Emergency Services Interoperability Commander e-learning package is aimed at those who would take on either an Operational or Tactical role when responding to an incident from the police, fire & rescue, ambulance service or other responder agency. It does not matter what rank or position you hold.
You can access the packages here:
Operational Commander E-Learning
Tactical Commander E-Learning
The package will take about 65 minutes to complete. They do not replace attendance on the one day commander training courses and can be used as general awarenss, prior to attending a training course or as refresher training.
The packages contain a scenario which will present different challenges depending on your role. You will learn about the five principles for joint working and how to apply the Joint Decision Model to achieve the primary aim of any emergency response to save lives and reduce harm.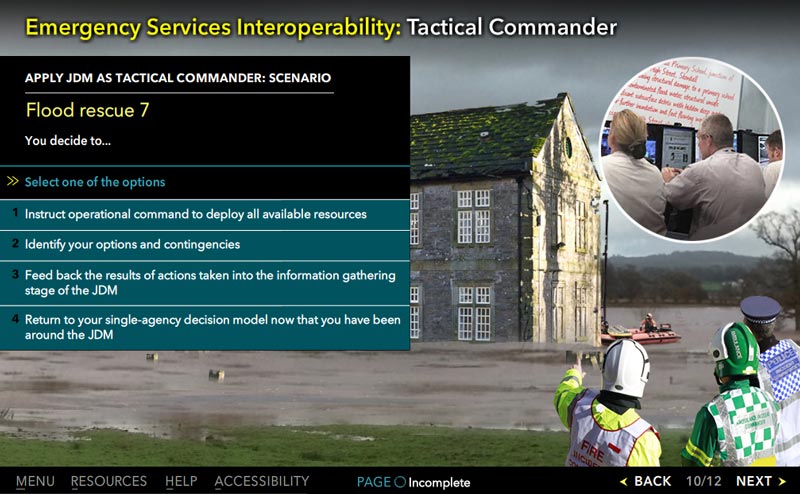 Police services access the package via their Managed Learning Environment (MLE).

Fire & rescue, ambulance services and other responders will access the package directly via the links above.

There are five chapters in either package. In relation to your role (either operational or tactical), the package aims to show you how to:
Define the five principles of joint working
Create a METHANE message
Apply the Joint Decision Model to make appropriate decisions in your commander role for a multi-agency major incident
Describe how social media is used during an emergency
Describe the responsibilities of your commander role
Describe interoperability communications
There are knowledge checks in most chapters so if you do get the answers wrong, you'll understand why and supporting documents are available in the Resources section. Please be aware there is some overlap with the All Staff E-learning package.

Completion of this package will count towards Continuing Professional Development (CPD) and once completed you should either print the CPD certificate or save it as a PDF file which can then be stored electronically or emailed. Please note you can only print the completion certificate if you are connected to a printer at the time. Unfortunately, there is no way to go back and print a completion certificate at a later time.
**We are aware of issues with the completion certificates on our e-learning packages for which we apologise - this issue is currently being reviewed and we hope to have it resolved soon - sorry for any inconvenience.**

For staff in fire and rescue, ambulance services or other responder agencies, you may want to follow local proceudres for recording CPD which may include sending a copy of your certificate to your local HR or Learning & Development department.

Back to E-Learning